Community
At Beckley Church of England Primary School we are honoured to live and work in a beautiful and thriving rural setting, with strong links to our community:
St Mary's Church
A sto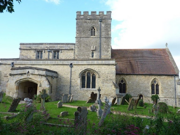 nes-throw from the school, we enjoy the peaceful environment of the church all year round for many formal and informal visits.
Open the Book
Our well-established Open the Book Team, comprising of volunteers from the local community, make bi-weekly visits to school, leading worship through drama.
RSPB Reserve, Otmoor
Consisting of wet meadows and reedbeds, Otmoor is a haven in winter for thousands of birds and in spring and summer for breeding birds. We regularly visit Otmoor, often as a whole-school. The children have such fondness for the birds that they elected to name each of our classes after the five star species found on the reserve.
Oxford Expressway Campaign
Children at Beckley School led the way in the successful local campaign to Save Otmoor from the Government's proposed Oxford to Cambridge expressway. Find out more at https://saveotmoor.org/
Community Orchard
We often visit the Community Orchard in Beckley, taking advantage of the quiet, beautiful surroundings. The Friends of the Orchard kindly donated some apple trees to us, which they helped our children plant on the school field.
Art Box Project
We are always delighted to contribute to Beckley's Art Box Project, situated in a former phone box in the heart of the village. On this occasion, every class was involved providing wreaths, knitted poppies, cross-stich poppies, poem helmets, union flags and bunting.
Oxford
Situated just 6 miles north east of Oxford, we are perfectly placed to make the most of all the city has to offer, including visits to the Town Hall, John Radcliffe Hospital, Botanical Gardens and the Pitt Rivers and Natural History Museums.
Open Days and Coffee Mornings
Throughout the school year we hold several open days and coffee mornings for the local community, raising funds and awareness for invaluable charities chosen by the children, such as Macmillan Cancer Support and Water Aid.
Friends of Beckley School
The school has an active parent teacher association called the 'Friends of Beckley School' or 'FOBS'. We have enjoyed great support from them over the years and major funds have been provided for IT equipment, updating the fabric of the school and for additional school activities.